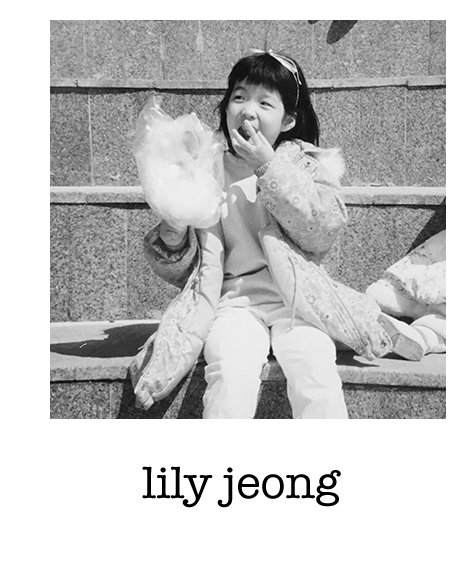 As a recent Chalkboard client, Lily Jeong was accepted to four medical schools and will attend University of Washington in Seattle in the fall of 2017. Before working with Chalkboard, Lily applied to dozens of medical schools, but acceptance remained mysteriously elusive. Highly qualified, she was simply not telling her unique story clearly, nor communicating her strengths effectively. But her experience has made her passionate about helping others through the daunting medical school application process. Lily is a wonderful resource for any student applying to medical school. Her perseverance alone is inspiring, but her knowledge of the ins and outs of the application process is priceless. Nana was delighted when Lily accepted her invitation to join the team as a consultant in 2017.
Born in Seoul, Korea, Lily was raised in the city of Daejeon, two-and-a-half hours south of the capital city. Determined to live in America because she felt stifled by the conformity-based Korean culture, she convinced her parents to let her move to Colorado alone at the age of 16-years-old to attend high school. After graduating from Colorado Rocky Mountain School in Carbondale, Lily set off for Boston to attend Emerson College. Lily worked as a DJ and program director of local non-profit radio station WERS 88.9FM, while in college and graduated with a BA in radio production. But, during her last year at Emerson, Lily realized her passion was medicine. She attended pre-med courses at Harvard, which convinced her she was now on the right path. She then completed her Post Baccalaureate Pre-Health Certificate at Seattle University in June 2013 to prepare for medical school.
While applying to med school, Lily worked in labs, clinics, urgent care, and hospitals. One job was as a medical assistant with Meadowbrook Urgent Care in North Bend, Washington. The small town near Seattle had a patient population that was mainly Caucasian, but two Korean sisters frequented the clinic. Both in their seventies, neither spoke English well. When Lily greeted them in Korean, it was as if they had found a treasure. With her translation and cultural competency, the sisters were now able to communicate in detail with their doctor. Soon, they made appointments only on the days that Lily worked. She realized then that healthcare disparity is more than geographic; it can be linguistic and cultural. Lily wants to work in remote and impoverished areas. She believes that physicians should be integrated into a community to better understand the external factors contributing to medical conditions.
Lily lives in Seattle with her husband Chris and their pug Tazo, and she is thrilled to start medical school at University of Washington in the fall 2017 and thanks Chalkboard for making that possible.