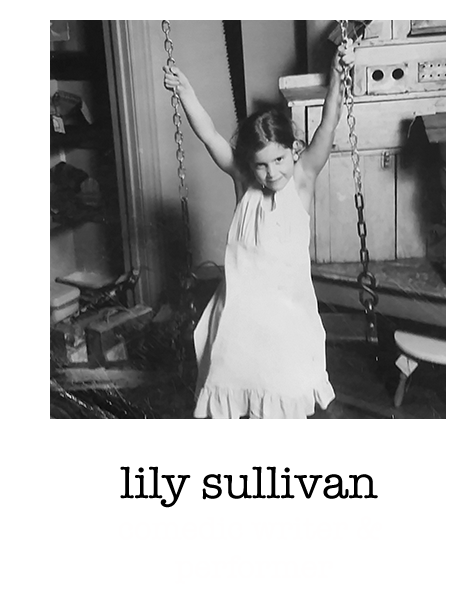 Lily Sullivan is a comedian/actor/writer who grew up in Chicago and Telluride, Colorado. Her credits include Comedy Bang Bang!, SHRINK, Jake and Amir's Lonely and Horny, the Netflix sketch show, I Think You Should Leave, as well as a blurry appearance in a UPS commercial.
As Chalkboard's first consultant, Lily knows that any essay can be improved with humor, and she brings her extensive experience writing sketch comedy and screen plays to assisting students with their essays. For video portfolios, she offers invaluable help editing, critiquing, and producing submissions.
Growing up as the middle child of three siblings, Lily Sullivan has always craved attention and was drawn to acting. Having never been cast as the ingénue in high school or college, Lily found herself playing fascinating roles like "Milkmaid," "Chorus #5," and last but not least, the "back half of a Mammoth" (yes, she was technically cast as the Mammoth's butt). Lily took this as a sign that after graduating from Bates College in 2010 with a major in Anthropology and a minor in Theater, she was destined for stardom.
Paying off her student loans in full after a five-month-long Second City tour on the Norwegian Dawn Cruise Ship in 2014 working only three-hours a day in what she describes as part-camp, part-prison, further encouraged her dreams.
She performed for The Second City, iO Theater, and the Annoyance in Chicago before moving to Los Angeles in 2015. Lily was selected to perform at the Just for Laughs Comedy Festival in Montreal as part of their "New Faces" showcase in 2016. She wrote and starred in her own web series for Lifetime called "Project Sammy's Way," where she played a wannabe fashion designer whose attempts to get on Project Runway were disastrous. The character also hit the streets of NYC during New York Fashion Week Spring 2017.
Ultimately, Lily hopes to someday win a Tony for the reprise of her beloved role as the Mammoth's ass in The Skin of Teeth…fingers crossed!