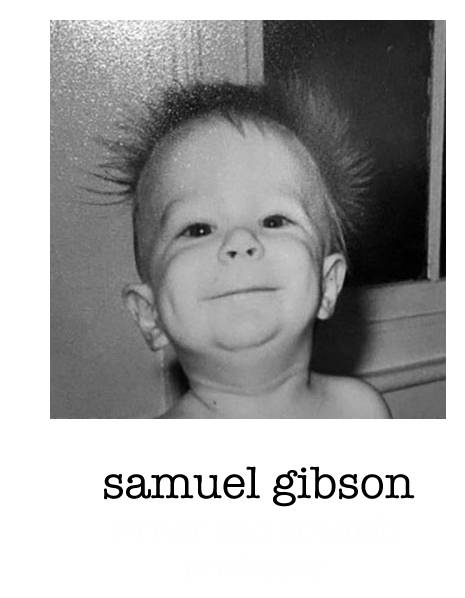 Samuel Blue Gibson grew up above a pub in an obscure part of southern England. He eventually became a Spanish lecturer at Stanford University due, in large part, to the good fortune of having an extraordinary high school (called "secondary school" in British English) teacher whose focus was Spain and Latin America. Despite having no knowledge of the Spanish language himself at the time, something about his mentor's passion hooked him.
After receiving a Bachelor's degree in History and Philosophy from the University of London, Samuel sold his worldly possessions (a Playstation and a rusty, off-key harmonica) and moved to Argentina where he worked as an English and Creative Writing tutor and studied advanced Spanish at the University of Buenos Aires. In 2018, he received his doctorate in Spanish and Latin American Studies from Stanford University. Whilst pursuing his PhD, he had the opportunity to teach college-level language courses, including Introductory Spanish and Advanced Oral Communication, as well as additional courses on Literature and Philosophy.
As a private tutor, Samuel has over ten years of experience offering individual classes tailored to students' specific needs and learning goals, from younger students preparing to begin Elementary School Spanish to mature students wishing to improve communication for work, business, or pleasure.
Concurrent with his work as a tutor, Samuel is a professional writer for stage and screen. He was a writer/producer on the Paramount+ miniseries THE DIRTY GAME and is currently developing FIBS, a drama about the FBI's London office, for Pulse Films. His stageplays have been performed in London and Los Angeles and include LONELY PLANET, a one-act written entirely in emojis. This latter represents the manifestation of his belief that there are no creative limits to writing, so long as the style and content are tailored to the specific job at hand — a philosophy he brings to his work as a college essay consultant.
Samuel is also a proud member of The Writers Guild of America.